I love making toys. Knitted specifically. If I could figure out how to make them on the sewing machine or with a needle and thread I probably would. But somehow.. I don't have the patience. I know funny considering I have the patience to knit them.
Growing up I had stuffed animals all over my room. They were the best toys ever to me. One of the ones I remember was a three foot tall Raggedy Anne doll my mom knit. No I a not kidding, at age nine I had a knit doll that was almost as tall as I was. I could put my own cloths on this doll... it was awesome.
I haven't tackled a toy that size, yet. Most of mine are in the smaller range.
Recently I finished off Cecil the Cephalopod for my cousin who is having a baby..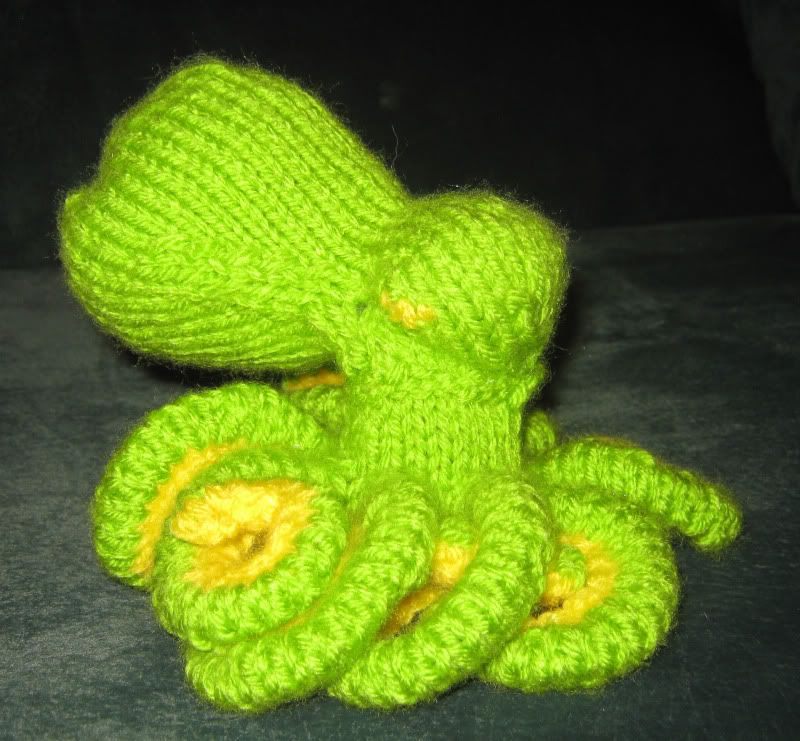 I love all the little legs... so fun.
And I made Vet Jaden, a gargoyle, for another friend who is having a baby (still need to ship him out).
But my favorite toy I have knitted, more for myself, is also a gargoyle (I love that pattern)... his name is Leanord and his best friend is a stuffed chibi Optimus Prime...
I know I will be making more toys, and I think that is great. Currently I have a set of dolls I am making (I am sure they would prefer to be called action figures but they aren't plastic).
Edit: Totally forgot to add this... Why A? Well, I have started an Alphabet blog circle.... and here is the wonderful picture link to check out other posts as well...