I finally got the pictures. Yep here it is the 76 coffee house.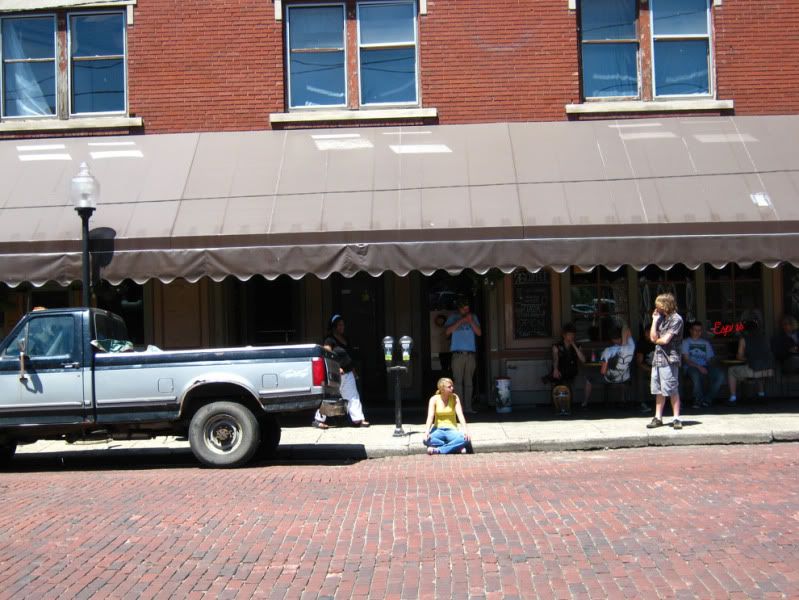 Here is the front... right next to the best hot dog place ever.

Nice sign to show the hours that they are open. They used to be open 24/7 but they just were not getting enough business between 4am and 9am to pay their employee, or the bills.
A wonderful little coffee house that serves home roasted coffee and has a set of baristas to die for. They are a good blend of down to earth and social know how, with savvy show off style with their drinks. Every time I go in this establishment I get a consistent cup of coffee or a latte that tastes like it was made with precision.
When I first walked in, after parting the smoky haze because it was a smoking establishment, was the thought of the old beatnik's poet café's where everyone was dressed in black, wore their little berets and sat talking existentially on the worth of street lights. Now however they were dressed in Punk and Goth wears. They got me to keep coming back by the fact that they make a mean cup of joe. And that is saying something because I do not smoke.
It is cash only, because credit cards are evil, and has a wide selection of made drinks as well as a variety of brewed coffees on pot. It is worth the time to go check it out and support local businesses.