I had a grrrr sort of day on Sunday. It was just one of those days. Just things that did not go right but it wasn't horrible either.
My Doctor Gryffindor scarf is coming along. I am almost 25% done. I am at 283 rows. However I had to stop because my lovely little furbutts found it while I was out of the room and, well, they ran and I didn't fix it right away and this happened.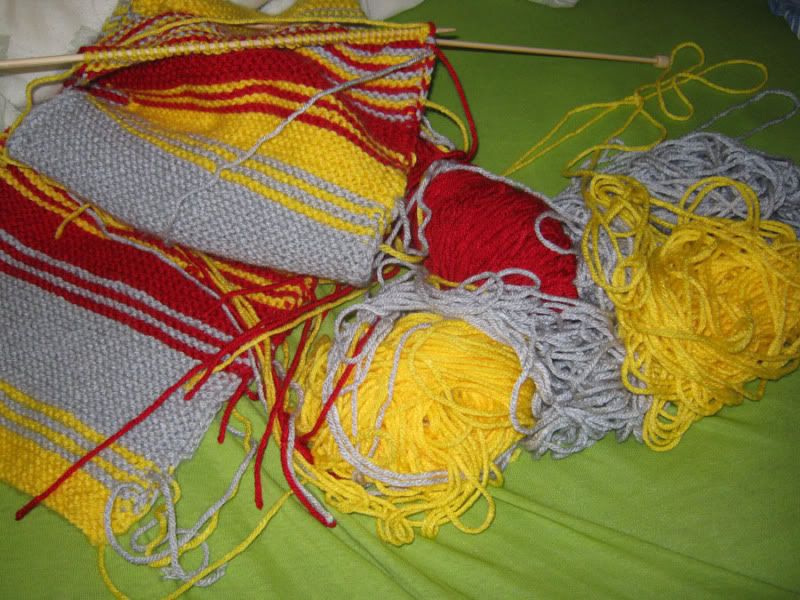 I also knitted a little bit more and created a bigger mess. So I stopped before I would rip it all out and toss it to the winds. I will in the next day or so pick it back up and remove the yarn monster from it and start knitting again. I will also find a night when I just want to relax and disentangle yarn to deal with the remainder that I have there. But that is for when I am at about 55%.
The other thing that made me go grrr was this...
Yes ladies and gentlemen that is Reason #17 for leaving work before the manager arrives in the morning: Wardrobe Malfunction. aka I ripped the backside of my pants out to the front. I finished the bake wearing an apron the other way around my body. And the thing is... I was wearing a thong.
On a good note I am working on slippers...
They are going to be felted and needle felting will be added. I will finish knitting this pair before I go to bed then I will cast on the next pair. I hope to have all three pairs knitted by Friday. *grins*
Anyway.... I hope to try and build my happy the next week again. I don't know quite where it went. Right now the happy is in my knitting and my ferrets, even though they made a yarn monster.