Okay, here I go with a post again... something kinda fun and updatey. I know not a word but right now I really don't care that much.
I will be redoing my toes tomorrow but a little bit back I posted up about my green toes. Well, here they are...
Aren't they shiny and pretty. I really like them they went very well with that pretty green shirt I got. I would love to make my toes purple, a nice shiny purple but they very defiantly would not go with what I am going to wear. So instead I am going to put on a wonderful pink color that I have worn before, the color I was wearing before I put this on...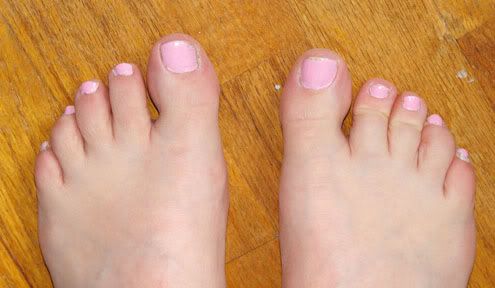 And that is what is happening in my life.
The picture that I am doing for my FCF (Freely Creative Friday) is sketched in, being firmly penciled in and will be inked in and scanned and put up in the next few days. Hopefully tomorrow night. I do also have a short little storyish thing to go with it. Kinda fun...
Now off to finish drawing, remove nail polish, repaint the toes and may be watch a little A-Team.
Sweet Beans!!!!