The sky was smoky gray shots of reds and orange flowed through with molten rolling turmoil. The landscape barren and crumbling, buildings spew across broken roads. As rumbling scraping growl shook mortar loose. Bricks jumped across the shattered sidewalk. Dust roiled out oozing across open expanses and around corners. Bumping and roiling upward against walls. A strong wind gusted through bursting away dust, clearing revealing a tangled mass of string, wood and others things unable to be identified by the naked eye. Bright splashes of purple wrapped around yellows and reds. Blues twisted with white and black strangled green. It rumbled out of sight as the cloud of dust enveloped it back.
And that is a world over run with tangled masses of yarn and string because people ignored thier yarn. So that is why I need new knitting needles so I can tackle my owver wealming stash of yarn.
This is my entry for Post-Apocalyptic. I think it is a good entry creative. I intend to make more of these little buggers. All I have to do with them is add the pin backs. I might eventually try to make them out of a clay but for now they are actually yarn and buttons.
The other part to this was Smoky Fires in the Sky... a scarf that I have been working on. Just something I am doing to keep my hands busy and me relaxed. I would have been a little bit further if I had not lost the extra ball of orange yarn... But I have it now and am working to finish it.
It is a wonderful drop stitch scarf... makes a neat pattern.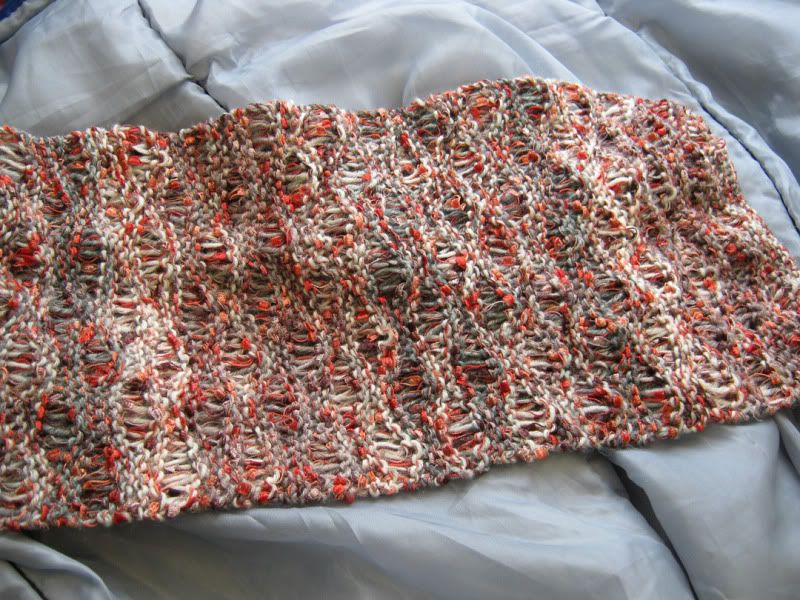 I really like the combination of yarns... makes it slightly lacy but if it was only one of them then it would be very lacy.
That is actually one of my harry potter yarns... dumbledoor I think but I am not sure, might be hedwig.
Well... I am putting up the individual pictures of the yarn monsters on my DA site...
Fuzziekit-DA
so go check them out. For now enjoy all of these.